Twin Cities Homes for Sale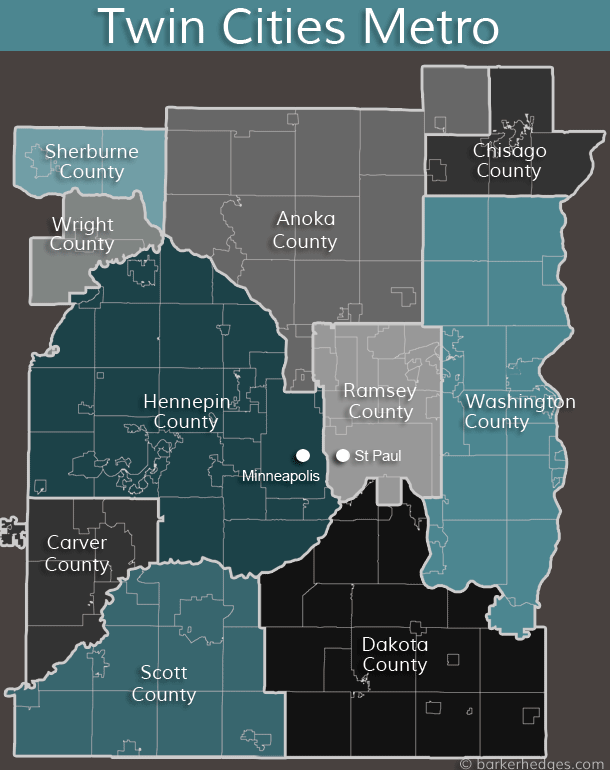 If you're buying Twin Cities real estate, you can count yourself among the fortunate people who enjoy the many advantages of living in two of the top-rated cities for livability in the U.S. Whether your tastes run to modern Minneapolis condos or the Victorian architecture that is a significant historical feature of Saint Paul, you can find a home in the Twin Cities of Minnesota. Read more about Twin Cities real estate.
Northern Minneapolis Suburbs
Western Minneapolis Suburbs
Southern Minneapolis Suburbs
Northern Saint Paul Suburbs
Southern Saint Paul Suburbs
Twin Cities Suburbs
The suburbs of the Twin Cities are as varied as the neighborhoods within the two cities. As time has gone on, more and more formerly rural farming communities have been absorbed into the Minneapolis-Saint Paul metro area. From Bloomington, home to the Mall of America, to the more distant Chaska, Chanhassen and Eden Prairie, the suburban real estate market in the Twin Cities is in high demand. If you work in Minneapolis or Saint Paul, but want to live in a community that is a bit smaller and slower-paced, a Twin Cities suburb may just fit your lifestyle. Most of the suburbs around the Twin Cities have excellent freeway access and transit service. The demand for real estate in Twin Cities suburbs ensures that your investment will appreciate in value, especially in the long term.
Twin Cities Real Estate
The Minneapolis-Saint Paul metropolitan area has been known as the "Twin Cities" for over 100 years. Despite many references to it as being one entity, the Twin Cities is made up of two very distinct cities: Minneapolis and Saint Paul. Once small individual communities, the two cities have grown over the latter half of the 19th and all of the 20th centuries until their homes and streets have merged so that they stand shoulder to shoulder on either side of the Mississippi.
Twin Cities homes are available in an astonishing variety. Minneapolis is known more for its modern architecture and Saint Paul for its pockets of turn-of-the-century homes, but both have single-family homes, condos and townhomes to choose from. Popular condo options include loft apartments in converted historic warehouse buildings by the riverside. Farther from the downtowns of both cities lie larger single family homes, even luxury properties with acreage.
Consistently ranked in the top U.S. cities for environmental building, livability and literacy, the Twin Cities offer home owners a plethora of opportunities for career building, leisure activities and outdoor pursuits. Major employers populate the business and industrial districts of both Minneapolis and Saint Paul. The parks system in the Minneapolis-Saint Paul metro area has been widely named as the best in the country. There are a number of institutes for higher learning, including two campuses of the University of Minnesota, one in each city.
A vibrant culture is alive in the Twin Cities. There is significant support for the arts – visual arts, theatre performances, dance, writing and music. An enduring tradition of charity provides millions of dollars each year from public social programs and support from both corporations and private individuals. Notable attractions include the State Capitol in Saint Paul, the Science Museum of Minnesota, Minnesota Historical Society History Center, Ordway Center for the Performing Arts, the Walker Art Center and the Mill City Museum are only a few of the many cultural attractions that Twin Cities homes are convenient to.
Shopping and dining are abundantly available with the Mall of America (the biggest mall in the country), Nicollet Mall, the shops in Edina, Grand Avenue and the Mall of St. Paul and the St. Paul Retro Loop are some of the most popular. Twin City homes are convenient to just about any kind of ethnic dining that one can think of and most homes are within a short walk or drive of grocery stores.
If you're looking for a home in the Twin Cities, there are many options that can take you from downtown to the outer edges of the metro area. Twin Cities real estate is a valuable addition to your financial portfolio as well as a place to live, so buying a home here is definitely a great opportunity.
Contact Barker & Hedges for more information about Twin Cities real estate
Twin Cities Suburbs
Minneapolis Neighborhoods
Saint Paul Neighborhoods
NEW LISTING EMAIL ALERTS
Be the first to know when new listings hit the market.
Twin Cities Market Stats
Pricing trends, average days on market, and more, updated every day.
What's My Home's Value?
Our professional analysis includes data on recent sales and current market trends.
From Our Blog