Greening Minnesota ~ February 2011
Posted by Matt Barker on Monday, February 28, 2011 at 11:10 AM
By Matt Barker / February 28, 2011
1 Comment
With all eyes looking towards spring, there have been some environmental developments happening around the Twin Cities and Minnesota, particularly in regards to parks and natural areas. Here are some of the community-related green news and stories that broke in February.
All over the Twin Cities metro, registration for local community garden plots has begun or starts quite soon. Community gardens are popular right now, due to tough economic times and a desire for chemical-free, home-grown produce. People applying for community plots include homeowners, apartment dwellers, senior citizens, immigrants, people who are trying to save money on food and gardeners looking for green-thumb fun. The size and cost of renting a plot varies from city to city. In most locations, plots range from 10 by 15 feet to 20 by 20 feet and cost between $15 and $35 for the summer.
Workers have finished installing new pollution control equipment on the 58 older buses in Robbinsdale district's 114-bus fleet. The $87,000 project didn't even cost the school a single dime. The equipment and installation were funded through Project Green Fleet via the Minneapolis-based Minnesota Environmental Initiative. Green Fleet funnels grant money from such sources as the Minnesota Pollution Control Agency and U.S. Environmental Protection Agency to retrofit the state's school buses and other diesel fuel-burning vehicles. The vehicles get new mufflers designed to cut down emissions coming out of the exhausts. The new mufflers can reduce diesel particulate matter emissions by 15% to 30%. They can also reduce emissions of hydrocarbons. The idea is not only to contribute to cleaner air in general, but to more specifically improve the health of student passengers.
Butch and Ruth Rechtzigel of Inver Grove Heights are protecting the habitat they love by selling 66 acres of land to a state nature preserve. The sale has been about a decade in the making and connects two other protected parcels within the 330-acre Pine Bend Bluffs Scientific and Natural Area. The SNA harbors rare plants such as Kitten-tails and James Polanisia. The land that currently makes up the state-owned SNA is part of a larger 1,300-acre natural area along the river that the DNR says is a critical link in the Mississippi River flyway used by migrating waterfowl and other bird species. Several acres also went to the city for a storm water management pond. For the couple, the sale is just a way to ensure that the beauty of nature that they enjoy daily is preserved for future generations.
Thanks to another generous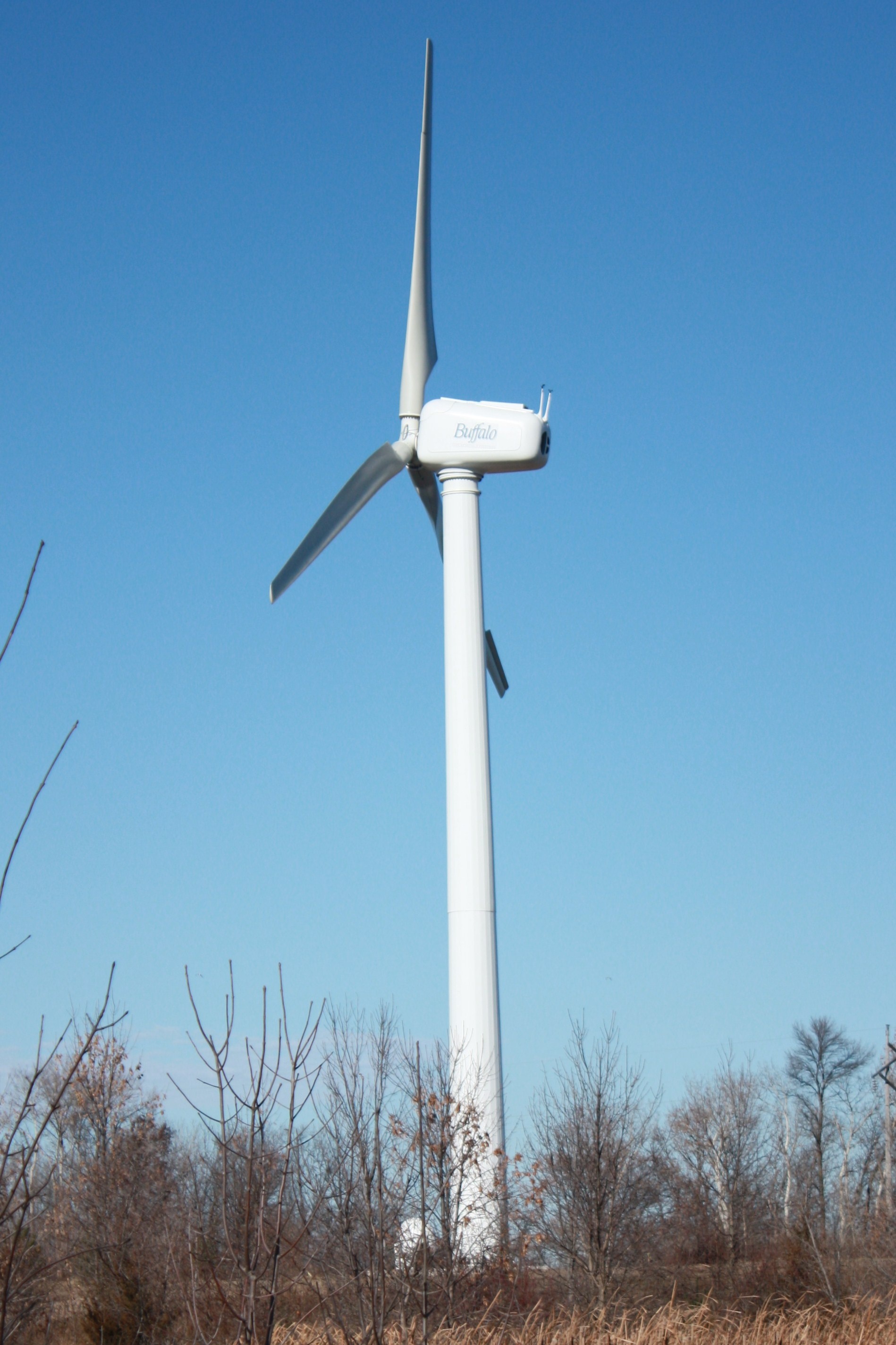 couple, Carleton College in Northfield will erect its second wind turbine this summer. The windmill is a gift from 1976 graduates Richard and Laurie Kracum of Chicago. When her husband asked her what she wanted for their 30th wedding anniversary, the active environmental advocate said "How about we build a wind farm?" While its not a wind farm, the 400-foot-tall anniversary gift, combined with the first turbine, will spin enough power for more than half of Carleton's needs. Some extra money from the $4 million gift was used to install solar panels atop two new dorms on campus. The windmill will be about a quarter-mile east of the campus on a leased farm parcel, just outside city limits. It is about a mile west of the college's first, 1.65-megawatt turbine, operating since 2004.
Scientists at the University of Minnesota and other schools will studying how to keep Midwest corn-based crops resilient amid climate uncertainties. Forty-two scientists from 10 universities and two USDA institutions in eight north-central states, including Minnesota, will collect and analyze data over the next five years. The work is funded by a $20 million grant from the U.S. Department of Agriculture. The grant is part of USDA's program for decreasing greenhouse gas emissions and increasing carbon sequestration.
Washington County calculates that on a two-mile stretch of road in Woodbury, about 190,000 gallons of gas are being saved per year because the lights are timed for traffic conditions. The lights are coordinated to give more green lights to more drivers, all for a one-time investment of $46,000. The county's efforts are being replicated across the metro area. In the past, engineers designed roads and lights solely to move traffic efficiently, but with mounting environmental awareness, the goal of saving gas is getting a new look. MnDOT is continually expanding the use of timed lights on state highways. In the east metro, Minnesota 36 from Interstate 694 to Stillwater has a span of timed lights. The department's next "light-optimization projects" will include a 30-light span of Minnesota 7 west of Minnesota 100 and a 39-light project on Minnesota 55, also west of Minnesota 100. Last fall, MnDOT completed similar projects in Rosemount and Eagan.
A statement from Sen. Amy Klobuchar's office says Minnesota is getting over $25 million in federal money for conservation projects and hunter education. The state will receive $13.7 million for fish habitat restoration, $9.6 million for wildlife restoration and $2 million for hunter education. The funds are coming from the U.S. Fish and Wildlife Service's Wildlife and Sport Fish Restoration Program. The money will help protect land, water, and wildlife habitats so the state can enjoy them for generations to come.
With an eye toward winning more state money to pay for expanded parks, Scott County has drafted plans for three regional parks and two regional trails. This month, residents got a peek at what the undeveloped Doyle-Kennefick Regional Park might look like in the future: More than twice as big, with a restored historic farmstead, campsites, public stables and trails for horseback riding and hiking/biking. Also in the works are plans for a future park reserve in the Blakeley Bluffs area, more recreation at Cedar Lake Farm Regional Park and two trails - one winding through Prior Lake and Shakopee and the other between Prior Lake and Jordan. The plans, crafted over the past year and which will take decades to complete, will go to the county board for approval in April before being presented to the Metropolitan Council this summer.
If you know about green initiatives and other environmentally-conscious programs and events occurring in the Twin Cities or Minnesota, please leave a comment and let us know for March's Greening Minnesota issue!