Historic E.S. Hoyt House for Sale in Red Wing
Posted by Matt Barker on Wednesday, September 8, 2010 at 9:48 PM
By Matt Barker / September 8, 2010
Comment
An incredible piece of Minnesota architectural history has just hit the real estate market in Red Wing: The E.S. Hoyt House. This extraordinary home was designed by Minneapolis-based architecture firm of Purcell & Elmslie and the Barker & Hedges Team with Re/Max Results has been chosen to market this fantastic property.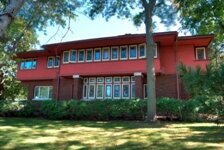 Located at 300 Hill Street in Red Wing, Minnesota, it was built in 1913 for E.S. Hoyt, who was president of the famous Red Wing Stoneware Company. It has been listed on the National Register of Historic Places since the 1970s. Many beautiful homes have been preserved in Red Wing, but the Prairie School style Hoyt House stands out from the crowd of Second Empire, Italianate, Gothic and Greek revivals found in this Mississippi River town. With its distinct T-shape, low hipped roof, and deep eaves, this nearly century-old house still has a modern appearance. The exterior is a bright red color scheme, with brick on the bottom level and red stucco on the top. Mortar lines, wide bands of color, and rows of art glass windows accentuate the distinctly horizontal characteristics of this Prairie School style home.
The house was designed by William Gray Purcell and George Grant Elmslie, the namesakes of the architectural practice most widely recognized as Purcell & Elmslie (P&E). P&E was the architecture firm second most commissioned to construct Prairie School style buildings, with the first being Frank Lloyd Wright himself. This isn't surprising, as Elmslie had actually worked alongside Wright for several years before joining P&E. When P&E dissolved in 1921, it had offices in Chicago, Philadelphia, and Minneapolis.
The two-story, 10-room, 4,000-square-foot Hoyt house is generous and open, while still providing adequate privacy. The home's first level has the living room, dining room, kitchen, and a library. The living and dining rooms, surrounded in art glass windows, offer splendid views of the Mississippi River. The kitchen is the only room which has been renovated and upgraded. The house's second floor has four bedrooms and two bathrooms. The home also includes a business office, domestic areas, and an enclosed porch.
Because this home was built for a wealthy client, P&E's budget for its construction included money for the home's finer details. Windows, doors, and bookcases are decorated with diamond-patterned leaded glass panels. To accent its artistic qualities, the home is filled with a sawn wood ornamentation. A superb mosaic panel over the fireplace, depicting a night sky scene of the moon and clouds, was created in Minneapolis by Edward L. Sharretts at his Mosaic Art Studios. According to a biography by Purcell from the 1940s, the Hoyts' delighted in their home's distinctive visual appeal. Purcell wrote that they "rather enjoyed the new excitement of being pioneers in art."
Now, the E.S. Hoyt House is ready to be passed on to new owners. A real estate opportunity like this doesn't happen often. Including the Hoyts, this home has had only a handful of owners over its nearly 100 years. Whoever purchases this home will likely want to hold onto it for many years to come!
Please view our exclusive Prairie School Architecture website for more information about the E.S. Hoyt home. To learn more or to schedule a showing, contact us today at 651-789-5001!