Twin Cities Real Estate Market Update - Coronavirus Impact Week 2
Posted by Brandon Hedges on Wednesday, April 1, 2020 at 9:56 AM
By Brandon Hedges / April 1, 2020
Comment
This is our week 2 update on the impact the Coronavirus pandemic is having on the local Twin Cities Real Estate Market. Check here for our Week 1 impact report.
The Twin Cities real estate market continues to show signs of life, albeit at a slower pace than would normally be expected in late March. These stats are provided by the Minneapolis Association of Realtors for the week ending March 21, 2020, which represents the second week of social distancing practices.

New Listing inventory: up 16% over the same period in 2019. This is still a strong indication of market activity, but the numbers are trending downward over 2019 and could be an indication that sellers are holding back from listing their homes.
Pending sales: up 11% over the same period in 2019. While this represents a positive change in sales activity over 2019, it also indicates a slowing over the previous week and we will watch to see if the slowing trend continues.
Inventory of available homes: for this reporting period, inventory is down 7.1% over the same period in 2019. Last week inventory numbers were down 8.7% over 2019 and we reported this would be a closely watched figure as we move deeper into the spring market. While not a drastic change, the year-over-year figures indicate a slight rise in available inventory.
The last statistic we would like to share is current showing traffic. We are watching the showing data daily, but felt it would be better to share the weekly stats for this report. When comparing to 2019, there is certainly a trend downward in showing activity from the early stages of the Covid-19. Last week, showing activity was down about 35% over the same period in 2019 which indicates a large drop in physical showing activity in the market. In a normal market, showing activity is a predictor of pending sales. When we see a spike in showing activity, that usually means there will be a spike in pending sales 1-2 weeks later as those showings turn into offers that turn into inspections that eventually report as a pending sale. We will watch this data to see if the lower showing activity trend results in less pending sales in the coming weeks.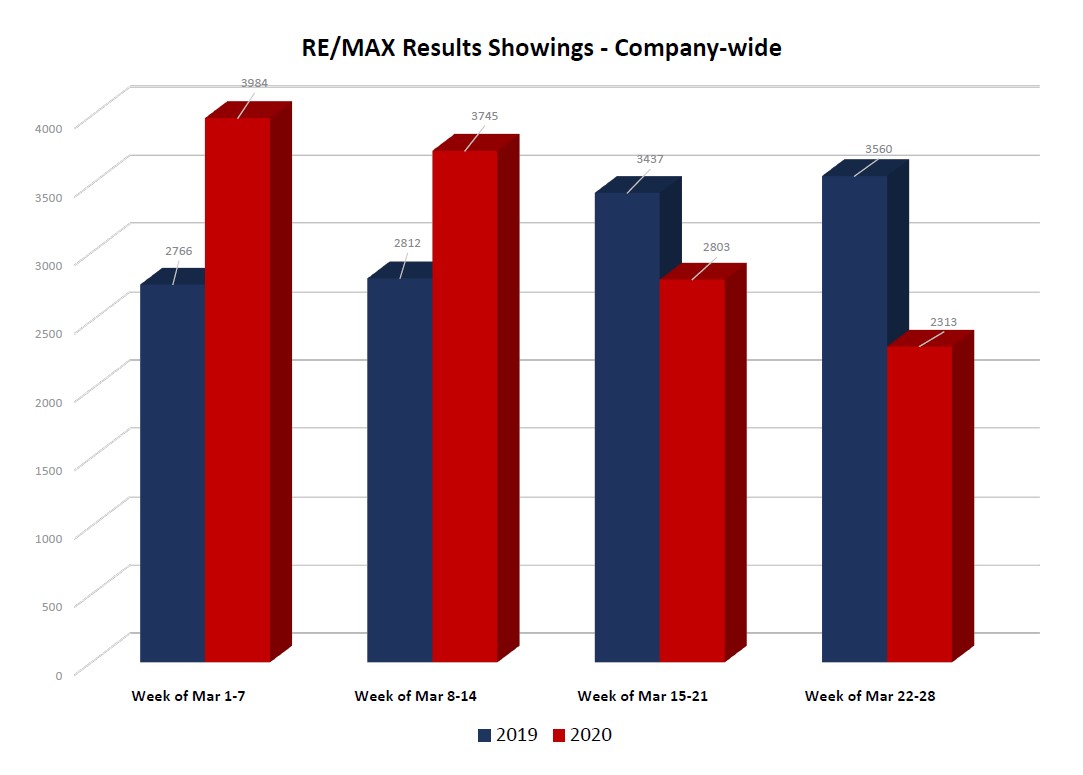 As of today, the market is still relatively strong, but we are still a week or two from having reporting figures that include pending sales that began during the stay at home order. The drop is showing activity might indicate a drop in pending sales and we may know more by next week. Stay tuned!