Twin Cities Real Estate Market Update - Coronavirus Impact Week 3
Posted by Brandon Hedges on Wednesday, April 8, 2020 at 10:30 AM
By Brandon Hedges / April 8, 2020
Comment
This is our week 3 update on the impact the Covid-19 Coronavirus pandemic is having on the local Twin Cities Real Estate Market. Check here for our Week 1 and Week 2 impact reports to watch how things have changed.
The Twin Cities real estate market is still active, but but we are now reporting all 3 key indicators are lower when compared to the same week in 2019. These stats are provided by the Minneapolis Association of Realtors for the week ending March 28, 2020.

New Listing inventory: down 5.8% over the same period in 2019. This is the first time we have seen new listing numbers trend lower compared to 2019 and is a strong indication that sellers are holding off from listing their homes right now. At this point, we don't know how many sellers are temporarily waiting to list their homes until they feel things have improved.
Pending sales: down 5.4% over the same period in 2019. This is also the first time in 2019 that pending sales have been lower than the same period in 2019. It's interesting that the percentage of pending sales and the percentage of new listings are both down about 5% over 2019. This is an early indication that the market changes are affecting buyers and sellers somewhat equally right now.
Inventory of available homes: for this reporting period, inventory is down 7.0% over the same period in 2019. Last week inventory numbers were down 7.1% over 2019. Not much change in this market segment.
Showing activity is the last segment of data that we are reporting. We haven't settled on the best way to show this data, but feel that providing a few weeks of historical data is helpful to show the trends. To compare the above stats to the showing activty chart, look at the week of March 21-28 stats below. The divergence from an upward to a downward trend in new listings and pending sales took place one week after the year over year showing activity trends reversed.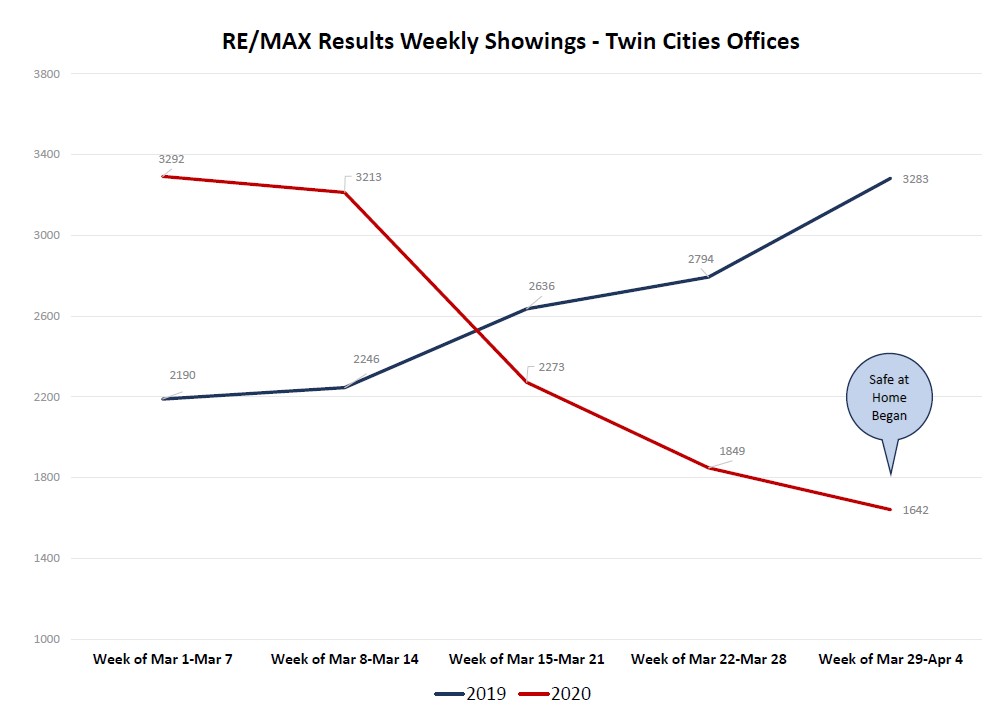 Huh? Let's look at this another way. Last week we reported that showing activity is a predictor of pending sales, meaning a rise in showing activity should result in more pending sales in 7-10 days as those showings turn into offers that are contingent upon inspections and finally result in pending sales 7-10 days later. Now that we are 3 weeks into this reporting, we finally have pending sales data for home sales that STARTED during the "safe at home" order. This data indicates that fewer showings over the past two weeks resulted in fewer pending sales. We will continue to watch this trend in the coming weeks.