Twin Cities Real Estate Market Update - Coronavirus Impact
Posted by Brandon Hedges on Tuesday, March 24, 2020 at 12:51 PM
By Brandon Hedges / March 24, 2020
Comment
We are frequently asked how the Coronavirus pandemic is affecting the local Twin Cities Real Estate Market and wanted to share some thoughts from the front line.
Like everyone, this pandemic is impacting the real estate industry and is changing how we do business, but it has not shut down the real estate market. Let's look at some current statistics to help identify what is happening right now. Our intention is to share this information with you weekly, so you have the most up to date information available as we navigate this unprecedented situation.
Let's review the most recent data from the Minneapolis Association of Realtors. This information is for the week ending March 14, 2020, which represents the early stages of our current social distancing practices.

New Listing inventory: up 21.7% over the same period in 2019. The market has been up 7%-35% each week since February 1, 2020. We expected this increase based on the consumer demand and short supply of homes as buyer's and seller's positioned themselves to take advantage of historically high pricing and historically low mortgage interest rates. We will watch this trend closely over the next few weeks.
Pending sales: up 16% over the same period in 2019. Pending sales have been up each week since February 1, 2020, ranging from 10%-24% over the same weeks in 2019. Again, this is expected based on what we thought would happen this year.
Inventory of available homes: for this reporting period, inventory is down 8.7% over the same period in 2019. We feel like a broken record, but inventory levels have continued to fall, year over year, since 2014 with no end in sight. As of March 14, 2020, there were 8,364 available homes for sale in the Twin Cities market. Taken in the context of other market factors, this represents a strong seller's market in most price ranges across the Twin Cities. Keep in mind that a "balanced" real estate market in the Twin Cities is around 20,000 active listings. We will watch to see if the supply gradually starts to build and keep you updated on the trends.
The last statistic we would like to share is current showing traffic. The showing activity trend prior to March 14, 2020 was up 30%-50% over 2019. For March 15th – 18th it was down about 50% over 2019 levels, but from March 19th – March 21st, showing traffic was up 20% over 2019 levels. When comparing dates, this is somewhat misleading because the days of the week don't line up to 2019, so we will watch weekly showing activity more closely than daily activity moving forward to see if the initial downward trend or the latter upward trend is most prevalent.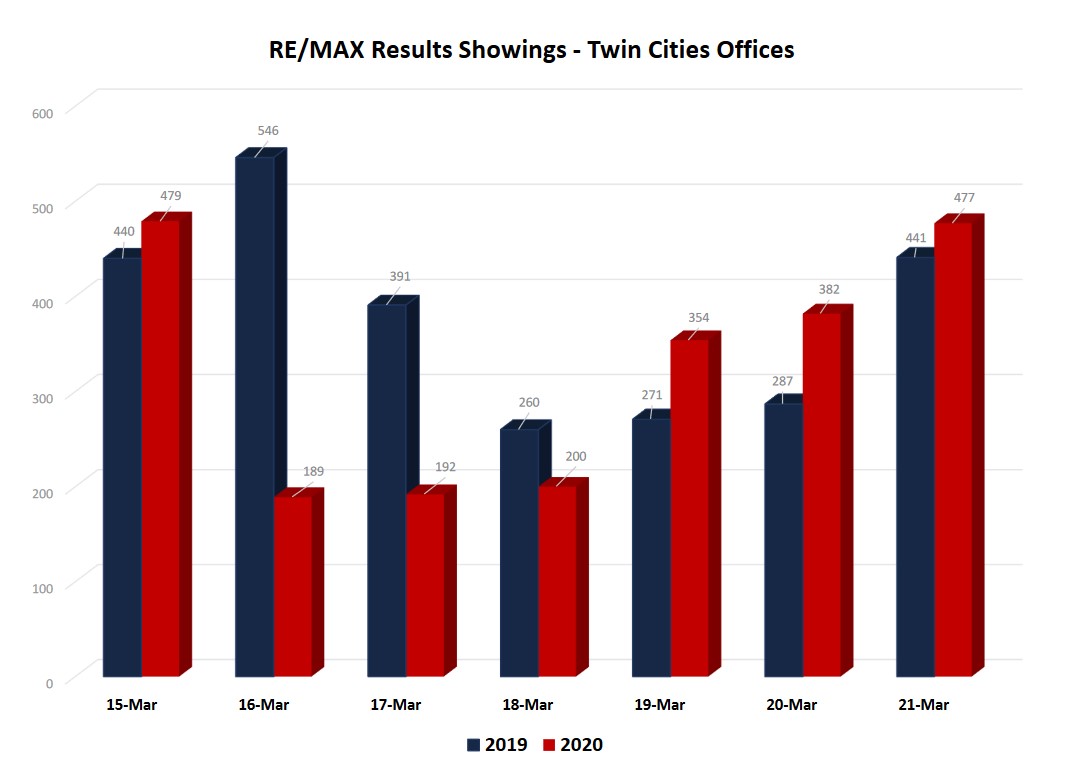 As of today, the market is still relatively strong, just maybe not as active as it would normally be in late March. We'll continue to report on these trends to keep you updated on the Twin Cities Real Estate Market as we navigate this Coronavirus pandemic.