Saint Paul Homes for Sale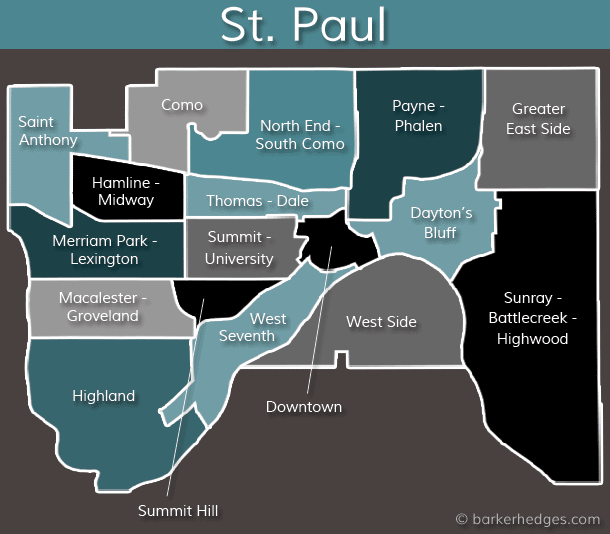 Saint Paul homes have the advantage of being situated in one of the top 10 cities in the U.S. for career opportunities, environmental consciousness and general livability. Real estate in Saint Paul provides home owners with an astounding array of career, cultural, leisure and entertainment opportunities in the Minneapolis-Saint Paul metro area. Read more about Saint Paul homes.
Saint Paul Real Estate
The community that we now know as the city of Saint Paul began as a small trading settlement known as Pig's Eye, so named for the tavern that operated there. Fortunately for succeeding generations, the name was changed from Pig's Eye to Saint Paul in honor of what is now the Cathedral of Saint Paul. In 1857, Saint Paul was voted the capital of the newly formed Minnesota Territory.
Explore Saint Paul Homes & Neighborhoods
Today, Saint Paul homes lie in one of the most populous metro areas in the country. The city is considered to range from University Avenue to the north and Kellogg Boulevard/the Mississippi River to the south, with the West Side neighborhood just across the High Bridge. With over 120 distinct neighborhoods, Saint Paul has been called "15 small towns with 1 mayor" (there are actually 17), alluding to the close-knit community qualities of the city districts.
The rich history of Saint Paul is reflected in its diverse neighborhoods and many examples of historical real estate. There are whole neighborhoods of Victorian homes. Craftsman architecture circa the early 1900s is another period style that can be seen in older Saint Paul homes. Such notable personages as F. Scott Fitzgerald have called historic Summit Avenue home. Many of the old warehouses in the downtown/riverside district have been converted into unique condo lofts that are now considered some of the most desirable Saint Paul properties.
Real estate values vary from neighborhood to neighborhood and the many different home styles and living situations accommodate most Saint Paul home seekers. Condos in the downtown core can offer car-free living while the bigger single-family homes allow a family to spread out and enjoy property.
Saint Paul Living & Recreation
There are many opportunities for outdoor recreation in Saint Paul. Over 170 parks provide a variety of walking, running, skiing, inline skating and cycling opportunities and the city regularly makes use of them to promote outdoor exercise through walking/running/cycling events. Saint Paul Parks & Recreation has a unique benefit for people living and working in Saint Paul; a $25/year membership that enables Saint Paul residents to use the fitness rooms and indoor walking tracks all year long.
Saint Paul has a number of cultural and leisure attractions, including downtown dining and unique shops, the State Capitol, the Science Museum of Minnesota, the Minnesota Historical Society History Center, and the Ordway Center for the Performing Arts. This is by no means an exhaustive list, but if you call Saint Paul home, you will have the opportunity to explore all of the many exciting features of the city.
Contact Barker & Hedges to find out more about Saint Paul homes.